Outlook 2021: No relief in sight for LA-LB congestion problems
2021-01-05
The Los Angeles-Long Beach port complex (pictured) handled record volumes of imports from Asia in August and October. Photo credit: Ken Wolter / Shutterstock.com.
This story appears in the print edition of the Jan. 4, 2021, Journal of Commerce Annual Review and Outlook.
The ports of Los Angeles and Long Beach entered the new year struggling to handle record import volumes, with no relief in sight for the congestion problems they faced during the second half of 2020 until — possibly — the Lunar New Year celebrations beginning on Feb. 12.
In fact, Jon Monroe, a consultant to non-vessel-operating common carriers (NVOs), said he is beginning to see a scenario develop in the Asia–North America trade in which the pre-Lunar New Year spike in imports that began in December will continue into the arrival of the 2021 spring and summer merchandise and even on into the 2021 peak season that would traditionally begin in August.
"We may see a flattening out in seasonality, so it is flat-out busy all year," Monroe told JOC.com in early December.
"I'm worried," he added, because a non-stop high level of US imports from Asia will not allow container manufacturers in China to get ahead of the equipment imbalances that plague Asian load ports, and terminal operators in Los Angeles and Long Beach may struggle with congestion well into 2021.
The US Federal Maritime Commission (FMC) is also worried. The economic impact of the port and supply chain congestion in Southern California was so severe last fall that the FMC on Nov. 19 announced it was launching a formal investigation into ocean carrier actions the commission believes are contributing to the issue.
"I believe that we have deep-seated problems that could continue for the foreseeable future, and I strongly believe we must pay immediate attention to these issues," FMC Commissioner Carl W. Bentzel said in announcing his support for the commission's investigation.
The commission will also investigate the Port Authority of New York and New Jersey, which has been experiencing similar issues, as the two largest US gateways contend with unrelenting imports of e-commerce merchandise, personal protective equipment (PPE), and home improvement goods during the COVID-19 pandemic.
Southern California's entire international supply chain has been stressed since imports began to increase rapidly in late June. The problems included vessel bunching at the ports, congested marine terminals, shortages of skilled equipment operators on the docks, lengthy truck queues at the gates, chassis shortages, and distribution warehouses filled to capacity.
The Los Angeles–Long Beach complex set records for Asian imports of 830,649 TEU in August and 852,103 TEU in October, according to PIERS, a sister company of JOC.com within IHS Markit. The port complex handled 3.3 million TEU of imports from Asia in the four-month period that began in July.
Cooperative solutions
The key performance indicators that quantify the impact of the congestion on the 12 container terminals in Los Angeles–Long Beach continued to grow worse last fall and are projected to remain at those levels at least until import volumes drop during the two weeks of factory closures in Asia during the Lunar New Year.
Click to enlarge
Average truck turn times in Los Angeles–Long Beach in November increased to 84 minutes from 81 minutes in October, according to data from the Harbor Trucking Association (HTA). Average turn times have increased each month since falling to a record low 58 minutes in June.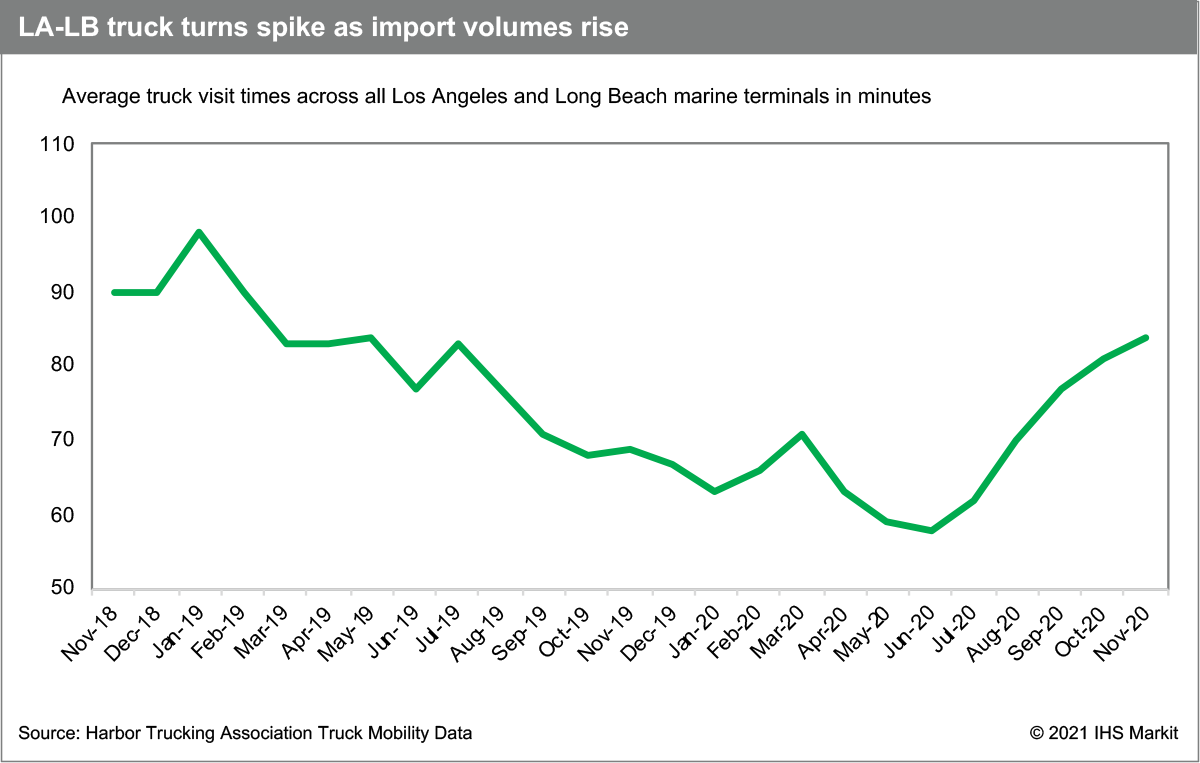 These conditions will persist until the port authorities and the shipping lines take decisive action to address the operational failures that cause the bottlenecks, according to Weston LaBar, CEO of the HTA. "The supply chain isn't working," LaBar said.
As landlord ports, Los Angeles and Long Beach are limited in what actions they can take, but in late 2020, each port announced initiatives to reduce congestion at the marine terminals that should produce results in the new year.
Long Beach in October opened its Pier S facility for the temporary storage of up to 1,400 containers that are drayed from the marine terminals in a "peel-off" operation, opening space at the terminals for the discharge of additional import loads. Long Beach followed in December with a cooperative initiative with its terminal operators to prioritize dual transactions so that at least 50 percent of all truck trips involve the delivery of an export load or empty container and receipt of an import load in the same trip.
Los Angeles in early December opened a near-dock yard as a chassis stop/start facility and for use as a temporary storage site for empty containers before they are drayed to marine terminals for repositioning back to Asia
Steps such as these are designed to reduce the container dwell times at the ports, which contribute to terminal congestion. The average container dwell time at the terminals in October was 4.78 days, according to the Pacific Merchant Shipping Association, the organization that represents shipping lines and terminal operators at West Coast ports. When the terminals were fluid last spring before the spike in imports began, the average dwell time was less than three days.
Carriers, shippers, and NVOs say that while the import surge peaked in October, they expect US imports to remain strong at least until factories in Asia close for a week or two for the Lunar New Year celebrations beginning Feb. 12.
LaBar noted that similar congestion issues could surface again this year during periods of peak cargo volumes, such as back-to-school in the fall and the peak shipping season for the holidays, so supply chain partners must collaborate to fix what he described as systemic problems.
Monroe said another factor feeding the continued surge in imports is the re-emergence of China as the main producer of e-commerce merchandise, home-improvement goods and materials, and personal protective equipment (PPE). Imports from China slowed in 2019 into early 2020 owing to the two-year-old US-China trade war and the closing of factories in China during the initial outbreak of the coronavirus disease 2019 (COVID-19).
However, when the US economy last summer reopened from closures during the COVID-19 crisis, China stepped in immediately to fill the void, Monroe said. That's because it had significant unused factory capacity, a huge trained workforce, and a sophisticated transportation network, assets no other country in Asia could duplicate.
Although other Asian nations like Vietnam have expanded their productive capacity the past two years, their growth will be slow and limited by population and resources. "Vietnam is going to be formidable, but it won't be a China," Monroe said.
Contact Bill Mongelluzzo at bill.mongelluzzo@ihsmarkit.com and follow him on Twitter: @billmongelluzzo.
Back to list page